We had a change of our end of season event this year, instead of our usual spin and BBQ we
opted to travel to Kanturk at the invitation of our friends from Kanturk Cycling Club to try our
hands at track racing. A huge thanks to Dan Curtin and Con for giving up their time last Saturday
and allowing us to bring a large group of our Youths to try out the track.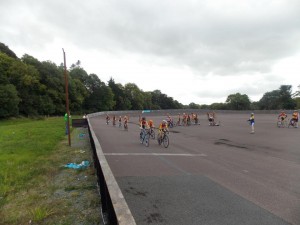 With the help of senior riders Paul Griffin, Colm Dillon, Brendan Hartley, Derek Rothwell, Orm Kenny,
Brian Cullen and a huge thanks to our experienced track rider Eamon Hartley who put the youth
through their paces, they totally enjoyed 2 hours of racing so much so they want to know when
we will get our own. To quote Kevin Costner in the movie "Field of Dreams", "If you build it they
will come"!, now just to find €250,000!!!
We finished it off with a lovely meal for 28 in Mallow, some stomach lining for the seniors of
the club who were heading out on the senior end of season night out, that too was a good 1!
Looking forward to some good winter's training and another great season for the club in 2016.