Comeragh Cycling Club was established in 1987 in the Sean Kelly & Stephen Roche era when cycling became very popular, at the time Comeragh CC had between 20-30 youth members.
With the introduction of Playstations, Nintendo's, tablets, phones etc it's popularity died but 8 years ago we re-established our Youth Academy and we are thrilled to currently have 18 youth members aged between 10 & 15 years of age.
 Comeragh Cycling Club would like to wish all our Youth Academy members the very best of luck in the National Youth Road Championships this Sunday 16th August. The event is being hosted by Panduit Carrick Wheelers and the circuit is the Comeragh Cycling Club summer League race circuit out at Carrolls  Cross on the Cork Road (We hope this is a good Omen). Comeragh CC entered a total of 10 riders (3 girls and 7 boys);
U11 Oisin Meagher & Dylan Murphy
U12 Isabelle Clooney, Darragh O'Brien & Liam Hayes
U13 Cillian Clooney
U14 Hannah Hayes & Chloe Bennett
U15 Hayden Power
U16 Jamie Merriman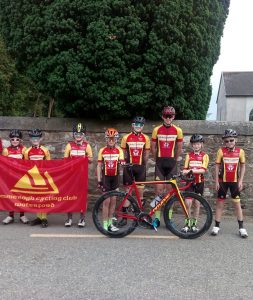 L-R Liam Hayes, Cillian Clooney, Hannah Hayes, Oisin Meagher, Jamie Merriman, Hayden Power, Isabelle Clooney & Darragh O'Brien

Missing from the photo above is Chloe Bennett

Missing from the photo above is Dylan Murphy
Unfortunately Dylan has take ill during the week and will miss his first youth championships but all his teammates in the youth Academy wishes him a speedy recovery, get well soon Dylan.