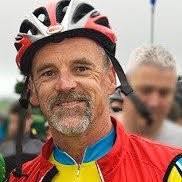 Dermot Blount was a member of Comeragh Cycling Club for many years along with his brother Tom, they were part of the Tramore branch of the club.
He was a member of the committee and held the Chairman's role for a 2 year period during which he played an integral part in getting the club involved in many worthy cycling activities in Waterford City and County. Groups such as "Women on Wheels" "Teaching cycling skills to groups of adults and kids with various disabilities" "Safe cycling for primary schools" to name but a few.
He also worked very closely with Waterford Sports Partnership. It was through one of these schemes that Dermot met Damien Vereker, Comeraghcc's visually impaired cyclist, with Dermot's help and that of Martin Kirwan from "Focus on Fitness" Damien excelled in tandem cycling representing Ireland on the world cycling stage.
Dermot participated in many cycling events, the Wicklow 200, Kilmacow sportif, the Coppercoast Sportif and of course the Sean Kelly Tour of Waterford, not the 50k route Dermot never took the easy option, he went for the hardest 160km route.
Dermot also ran his own bike business in Tramore" Tramore Bike Tours" bringing groups of cyclists on trips around the beautiful Copper coast and Mountain biking around the lakes and woods surrounding Tramore this made him famous in 2012 when he appeared on RTE's Nationwide.
He also organised foreign bike tours taking groups of cyclists on tours in Italy, France and Spain.
A great character, Dermot always had time for everyone and lived life to the full, he will be sadly missed by all whose paths he crossed.
The Committee and members of Comeragh Cycling Club would like to offer our condolences to Dermot's wife, children, his brother Tom and all the extended Blount family.
May he Rest in Peace.
https://rip.ie/death-notice/dermot-blount-tramore-waterford/451882