With the racing season nearing it's conclusion Comeragh CC was out and about for another busy weekend of events over the 26th and 27th of August.
Youth National Championships 2017;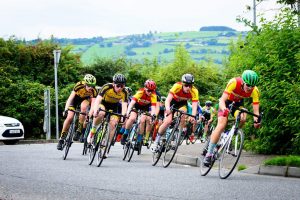 Carlow Road Cycling Club were hosts this years youth's national championships with 3 events; individual time-trial, road race, and criterium for all ages from under 11 to under 16, boys and girls. Comeragh CC had 3 representatives at under 15, two at under 13 and one at under 12. Saturday Mornings TT which was and 8km out-and-back course for all ages, began and finished at Togher's restaurant outside Carlow, Steven Crowley was best placed of the under 15's scoring an impressive 9th spot in a discipline which wouldn't be considered his favourite. Hayden Power was just outside the medals in the under 12 event with a brilliant 4th place.
Saturday afternoon's road race for the under 15's was 4 laps of a 15km circuit. The bunch for the main part stayed together for the entire race. Luke Griffin was unlucky to suffer a cramp with one lap to go and was forced to retire. Micheál and Steven were there to the bitter end, the race decided in a bunch sprint. Unfortunately no prizes for the lads, Steven 9th again and Micheál 15th. Umpressive riding from both.
The under 13 race covered 2 laps of the same 15km circuit, Jamie Merriman and Darragh Kelly ended up having their own little battle on the line after loosing contact with the main bunch on lap 1. Jamie took that little sprint to get 18th spot, Darragh 19th.
The under 12 road race was one lap of a shorter 9km circuit. Hayden stuck his head in the wind too early in the sprint and had to settle for 5th place.
In the under 15 criterium on Sunday Steven finished in 10th, Micheál 12th, Luke 24th and Ciarán Frisby 28th. Darragh and Jamie were 17th and 18th respectively in their under 13 event while Hayden was was once again 5th in the under 12 race. Good weekends racing by all the youth riders who competed and a well supported event judging by the number of spectators present. Well done to the host club, Carlow RCC, on a smooth running of the weekend's events too.
Killmallock;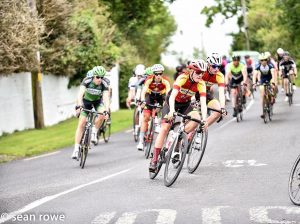 Comeragh CC was represented at this years Rás Cill Mocheallog by three of our junior riders in the A3/junior race, Aaron Dillon, Tomás Walsh and Ronan Charters. Reports are that all three were very active throughout the race. Tomás coming home in 10th place on the day
S.E.R.C. GP.
South East Road Club also ran their annual open race, the SERC GP on Sunday gone. An A4 race and a combined A2/A3 race. Comeragh CC was represented in the A2/A3 race by Martin O'Brien, Brian Ennett and myself. Held over 5 and a half laps of their circuit gave the race a total of 103 relatively flat kilometres. A fast race with none of the early break attempts sticking, it looked like a bunch gallop was on the cards, but a break of 3 did eventually get clear on the last lap. All 3 of us finished pretty much together, safely in the main bunch.
Junior Tour of Wales.
Comeragh CC's Ciaran O'Sullivan earned himself a place in on the Munster team for this weekends Junior Tour of Wales, based on his superb run of form and great results all season. The race was held over what Ciaran himself described as a "Painful and tough four days" but was a "Seriously good, great experience" Against some seriously tough opposition, Ciaran finished an impressive 49th place at the climax of the race. Well done young man.