The annual Carrick Wheelers open races took place on their traditional St. Patricks day with a new course starting and finishing in Clonea Co. Waterford.
Comeragh CC had representation in all 3 races with the 14 riders in the A3/Junior race including all 8 of our first-year juniors in a field of 72 riders. The 100km A3/Junior race would be 5 times around the new 20km lap..
Early in the first lap, 3 Comeragh CC Juniors, Jason Kenny, Tomas Walsh & Ciaran O'Sullivan were part of a 9 man breakaway , that would turn out to be the race-deciding move. The break stretched out up the road and the sight of Sinead in the support car passing the main bunch on lap 2 indicated that the gap had grown to the 1 minute mark. On passing the finish line at the end of that second lap the time gap was called out at 1 min 30secs. Indeed the gap at it's biggest was called out to be over 2mins.
In the 9 man break all riders rode well together, doing their turns and using the 'up & overs' which they'd been thought so well at underage level to great effect. Some would eventually tire and drop back to the bunch including Jason and later on Ciaran.
With 5 riders remaining in the breakaway the realisation both that the top places were gone and wouldn't be caught but also that there would be a few of the minor placings left on offer to the bunch. Tomas rounded the final corner with the winner JB Murphy and 2nd place man David Dalrymple still in sight and secured a fine 3rd spot for himself.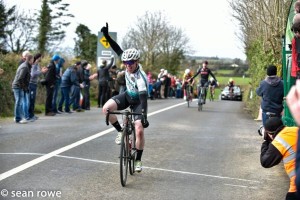 With about 5km to go Brian Ennett would be part of a move that would earn him a fine 7th spot. In what he himself described as the hardest he's ever ridden for 5 minutes. Well done Brian. We will enjoy your company in the A3 races while we can, won't be long one feels and there'll be another Comeragh A2 rider.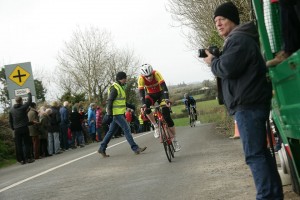 Pictures thanks to Sean Rowe, John Troy and DC Images.