Rhys Kenny has added to the tally of wins from our junior riders with a superb victory at the A3/Junior race, The Manzer Thackaberry Cup, in Kildare today.
The event was hosted by Newbridge Cycling Club with a combined A1/A2 race, an A3/Junior race and an A4 Race.
Here's what Comeragh CC's winner of the prize for 1st unplaced junior, Evan Cullen, had to say about todays race from his prospective;
"We rolled out from Kildare village at about 

12:30

and would be set to do 6 laps of a small enough circuit to complete 86km in total. We had a plan for the day that Aaron, Jason and Ronan were to be very active trying to get into moves.  Myself and Rhys would sit in and would wait for a sprint but it didn't plan out that way…. At about 10km into the race Jason  jumped off the front and was away with 2/3 others for about 20km or so. They were brought back anyway as attacks rolled off all day and were brought back nothing really stuck.  As it entered the closing stages of the race the lads were working hard to bring a move of two riders back, one of them dropped back to the bunch and Rhys saw his chance and jumped across to one lone rider which made it 2 up the road with about 5km to go. We rolled passed the finish line and heard that Rhys had got the win and I rolled in for first unplaced junior with everyone finishing safely in the bunch  except for Aaron who unfortunately came down in a crash with 150 metres to go with Brian and Eoin also getting caught up in the crash. Aaron was cut up and disappointed but happy once he got his Burger King."
Very good Evan, well done.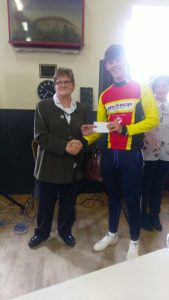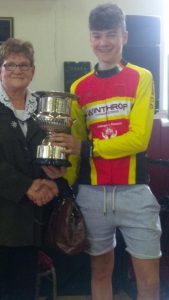 Comeragh dynamic duo of David Howell and Brian Ennett took to the start of the A1/A2 race today but unfortunately that event was halted inside the last kilometer due to the crashes that had occurred at the finishes of both the the A3/Junior race and A4 race.
We wish a speedy recovery to Eoin Maher and Aaron Dillon, and indeed to anyone else injured in today's crashes.
Also today at the Tuam Cycling Club hosted Brian McNamara Memorial, Comeragh CC's Pat Maher took to the start line and finished in a fantastic 8th place. Big congrats Pat.
Thanks to Sean Rowe for the victory picture.