While our senior and junior riders travelled to Clonmel and New Ross , 5 of our underage travelled to the Castlecomber Discovery Park for the annual Deenside Wheelers race.
Hayden Power was our only competitor in the U12 competition and having already placed 2nd in 7 races to date this year he was hoping to break cycle on Sunday, up against the rider who has beaten him in 6 of those 7 races it was going to be a hard fought race.
Both Hayden and Quillean Donnelly from Kanturk rode away from the peleton at the top of the 3km climb, both worked really well together taking their turns and riding through.  At the sign for 500m to go Quillean jumped clear and got a 4-5m advantage but as the finish line approached and flattened out, Hayden made a sprint to catch him, but ran out of road losing out by just a wheel to gain his 8th 2nd place this year.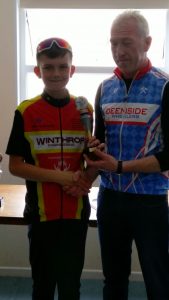 In the U16 race we had Luke Griffin, Miceál Hayes, Brandon Walsh and Ciaran Frisby, after having the team talk by Karen Griffin! Our four riders made their way to the front of the race on start line and were positioned really well as they climbed the 3km out of Castlecomber, with one large lap and a smaller lap the 40km race was going to be fast and furious. By the second lap the race had split with Miceál and Luke in the front group and Ciaran not too far off the pace in the second group (Brandon had mechanical after 2km and had to retire from the race). As the race approached the finish line, 5 riders jumped off the front followed by Luke and Miceál, Luke riding the best he has done this season sprinted up hill to pass 2 of the 5 riders to take a well deserved 4th place with Miceál crossing the line in a credible 7th place.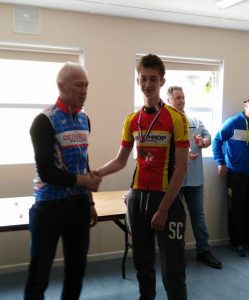 Well done to all riders.