it was a busy weekend indeed for Comeragh CC with the Wexford 2 day , the Sean Kelly tour and youth racing in Carlow we were well represented in all events.…
On Saterday morning Brian Ennet, David Howell, Donal Kennelly and David Halligan travelled to wexford to compete in the a3 race while Colm Dillon was our only rider in the a4 race. Colm rode a very strong race and got his reward by sprinting to 6th place in the bunch sprint. He has been flying along in recent weeks and always gives it everything when hes on the bike (apart from the night he sat in on church hill and with 50 yards from the top jumped us all to the yellow sign) well done Colm half way to your a3 licence.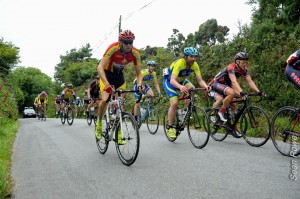 In the a3 race we decided that donal was probaly our best chance of a top 10 finish in the overall classification and it was going to be the time trial where he was going to be able to do the damage. We all finished safely in the main bunch on the morning stage with hally taking 11th place.
The time trial was a 3.5km hill climb with gradients of 8% and more. Donal really showed his strenght by clocking a time of 8.01 which was the 5th fastest time of the evening and moved him up to 8th overall.
It Was a miserable start to sunday morning with only 10km into the race donal puntured and needed to drop back for a wheel change from the team car. He quicky caught back up to the back of the bunch and i paced him back up to the front bouncing off every cat eye possible along the way. The break had well gone clear at this stage and had the gap out to over two minutes. The bunch responded and started working to reel the break back. It eventually came back together in the last 20km before a group of 15 went clear in the closing stages which david halligan found himself in they stayed away and david managed to finish 14th on the stage and donal managed to stay inside the top 10 only dropping one place to finish 9th overall in what was only his second race all season. Well done to all.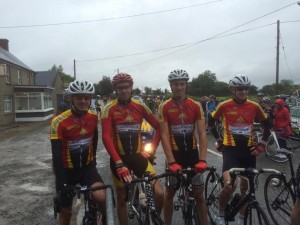 Also on sunday some of our youth riders Aaron Dillon, Jason kenny, and Evan Cullen travelled up to carlow where they came up against a tough course and some tough opposition. Evan was our best placed rider who came 8th in the under 16 race.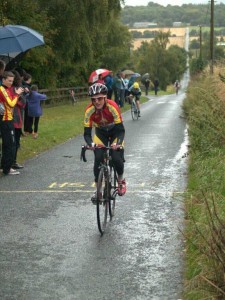 Meanwhile back in waterford the ever increasing in popularity Sean kelly tour was taking place. We had a big number of riders who took part with most of them taking on some of the punishing climbs in the 160km route while the rest tackled the 100km heritage route. Well done to sinead, cliona and mac who were on hand all day long with there marchalling duties and welcoming every rider back home. A very enjoyable days was had by all accounts and a big well done to all who completed the spin .