Results for race 8 in our summer league and overall winner.
At the outset we'd said that all monies raised from this years league would go towards the Lisa Power GoFundMe campaign so huge thanks to all who took part.
A big well done to our overall winner for 2018, Mark McGarry from Dungarvan CC. Racing at his first year under 16 Mark showed great consistency throughout the league winning 4 of the 8 races, beating a raft of top riders along the way, and even one certain continental level rider. He's a potential star of the future, definitely one to watch. Mark will be on the Irish team for the upcoming Errigal International Youth Tour, we wish him the very best. Although it was initially communicated that there would be no prizes this year, the club committee decided that there would be one monetary prize for the overall winner.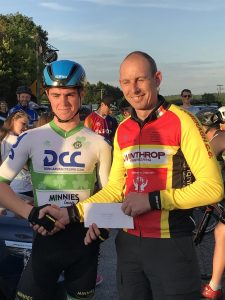 In what was a truly lovely gesture after the prize giving, Mark asked that his prize money be donated to Lisa's fund. Thank you Mark.
Each week to run our races 18 volunteers were required, between marshaling at the junctions and driving the lead cars, without these volunteers we couldn't have held the league. A huge thanks to all who helped out . Thanks also to the Irish Red Cross who were on hand for First-Aid cover, which thankfully wasn't needed.
Week 8 Results below, we'll have the full overall league table a bit later on.
| Name | Club | Time | Position |
| --- | --- | --- | --- |
| Brian Ennett | Comeragh CC | | 1st |
| Sean Moore | DHl | | 2nd |
| Enda Walsh | Waterford RC | | 3rd |
| Mark McGarry | Dungarvan CC | | 4th |
| Alan Landers | Dungarvan CC | | 5th |
| Aidan Connell | Dungarvan CC | | 6th |
| Micheál Hayes | Comeragh CC | | 7th |
| Rhys Kenny | Comeragh CC | | 8th |
| Trevor Robinson | Comeragh CC | | 9th |
| Kieran Condon | Panduit Carrick Wheelers | | 10th |