Our last, but by no means least, rider profile of this years Team Comeragh for the Eurocycles Eurobaby Junior Tour of Ireland is none other than the hugely talented Tomás Walsh. With a string of top results to his name his victory in the Frank O'Rourke combined A2/A3 race earlier this year in Wexford ranks as his top results to date. Tomás topped the Cycling Ireland junior rankings earlier in the year and has progressed into the A2 rank and settled in quite well to the longer distances and higher speeds.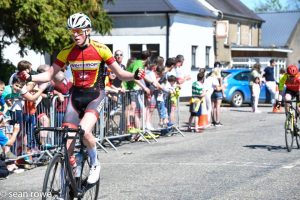 BIO:I live in the passage east area of Co.Waterford. I took up cycling a couple of years ago for something to do. I joined Comeragh 4 years ago and this is my third year racing with the club. When I moved up to the junior ranks last year I was allowed to take the stabilizers off my bike so it's much more fun now. Having ridden the junior tour last year I am much more confident going into it this year because now I know where all the pot-holes are! I'm really hoping not to get dropped on the first stage I'd say that one will be really hard. The longer stages this year should be pretty challenging but having moved up to A2 this year I've had some experience of the longer distances 
Q1; What is your favourite Irish race and why?
TW: I really enjoyed the Eddie Tobin this year, the circuit is nice and rolling.
Q2; What is your favourite race on the professional calender and why?
TW: The world champs. There is so much up for grabs in the one race.
Q2; What is your favourite race on the professional calender and why?
TW: I'm going to have to go with Wout Van Aert. His transition from cross to road racing was amazing this year. Oh and Rhys Kenny actually, he won a race!
Q4; Who is your favourite retired professional cyclist and why?
TW: Bradley Wiggins. My reason; his side burns.
Q5; What was the last book you read?
TW: "A night in the heart of Ennis" and "Ennis's most filthy Chippers and where to find them"
Q6; What is your favourite movie?
TW: The SpongeBob Movie: Sponge Out Of Water.
Q7; What kind of music do you listen to?
TW: smooth drivetrains.
Q8; Any hobbies off the bike?
TW: Did I mention I cycle?
Q9;  What are your expectations for the junior tour?
TW; I expect there will be people, bikes,cars, roads, roads going uphill, roads going down hill, bottles, gels,multiple spice boxes etc.