Next up to feature of our junior riders is the formidable Miceál Hayes. Quickly progressing to be up there with Comeragh CC's most successful underage and junior riders of recent years, Miceál has already bagged himself a string of top 10 results firstly at underage level and this year as a first-year junior, and sits well inside the top 20 junior riders on the Cycling Ireland rankings at time of writing. Though occupying the podium's top step has to date alluded him, we've a quite air of confidence that it'll be but a matter of time for young Miceál.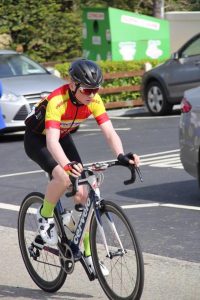 Bio;
I joined Comeragh CC in 2014 just for fun. I started racing back in 2017 as an under 16 rider and began to really enjoy cycling. Some of my major achievements include a fifth in the U16 National Road Race Championships and a second in the Munster road race championships. I am really looking forward to the Junior Tour this year and competing against some of the best Juniors from around the world.
Q1; What is your favourite Irish race and why?
My favourite race this year is the Newbridge GP. I really enjoyed this race because I like the course and I've had good experiences their with a 2nd and a 3rd.
Q2;  What's your favourite race on the professional calendar and why?
My favourite race on the professional calendar is Paris-Roubaix. I like it because it's one of the most exciting races of the year, not to mention the fact that I get to spend the whole day sitting around watching it because it's so long.
Q3; Who is your favourite current professional cyclist and why?
Currently, Eddie Dunbar is my favourite professional cyclist. He is riding for team Ineos this year and is competing against some of the best climbers in the world. He is only 22 and is showing lots of potential.
Q4: Who is your favourite retired professional cyclist and why?
My favourite retired professional cyclist is Alberto contador because of his aggressive attacking style.
Q5; What is the last book you read?
The last book I read was 'Peter Sagan – My World'. It is the biography of the three time world road race champion Peter Sagan
Q6; What is your favourite movie?
My favourite movie is 'Ferris Bueller's Day Off' (1987).
Q7;  What kind of music do you listen to?
I listen to all kinds of music. My favourite genre is usually rock.
Q8; Any hobbies of the bike?
I used to have lots of hobbies but so far this year my time has been spent either training or studying. Now that we have summer holidays I'm going to have to find something else to replace school (won't be hard).
Q9; What are your expectations for the Junior Tour?
I know that the Junior tour will be by far the hardest race that I have ever done but i've trained very hard all year and hope to get some sort of result (a win preferably).