Fourth of our six riders to be entered into this years Eurocycles-Eurobaby Junior Tour is the unmistakable Luke Griffin. Of our six riders, as Luke himself has said, he's the one that's been looking forward to this Junior Tour the longest.. since he was 8 years of age.  With spade loads of enthusiasm Luke has been aggressive on plenty of racing occasions but has yet to taste the glory of a placing. Patience though master Luke, your time will certainly come.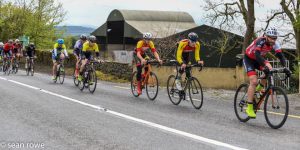 Bio;
I started cycling properly when I got my first racing bike one Christmas morning at 8 years of age. It's been the only sport I didn't give up on after two weeks. I suppose I fell in love with the sport due to the thrill you get from flying downhill and skinny little tyres seeing how hard you can push the limit and from the banter of training with my dad. The only experience I have of a big stage race is Errigal and with three years of it, it's s safe to say it never got easier. That was only 3 days of racing so I'm assuming the junior tour will hurt a lot more, something I'm looking forward to. I'm hoping to do my best and give a strong performance throughout the week. These last 8 years have flown by and can't believe we're only a few days out.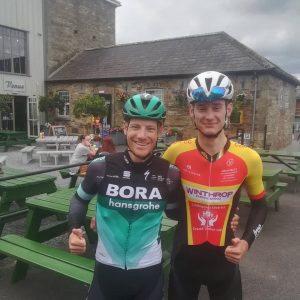 Q1. What is your favourite Irish race and why?
The Shay Elliot is definitely my favourite as the course has a good variety of flat roads, rolling roads, long excruciatingly painful hills, even if there only really one and a love fast descent.
Q2. What is your favourite race on the professional calendar and why?
I don't have any individual favourite races. Any of the classics would suffice. I find it far more exciting to watch the power houses of the sport battle it out in one day races that only the real tough men of the sport can do well in. The grand tours as exciting as they are, become very repetitive as it's always the same teams keeping a steady tempo on the front. Any classics race is as much of a team effort as it is every man for himself.
Q3. Who is your favourite current professional cyclist and why?
I have a few that would come to mind. But narrowing it down to one, I'd have to say Mark Cavendish. I began watching cycling when Cav was at his best and always wanted to be as fast as him. Unfortunately my lack of fast twitch muscles said otherwise. I've always enjoyed watching him in the closing kilometres, watching him follow Renshaw's wheel just to kick off it with incredible speed in his aero sprint position.
Q4. Who is your favourite retired professional cyclist and why?
Either Thor Hushovd or Matt Goss. Mainly because they both had an impressive sprint.
Q5. What was the last book you read?
Mark Cavendish: At speed
Q6. What is your favourite movie 
Rain man
Q7. What kind of music do you listen to? 
I don't have a particular type of music I like
Q8. Any hobbies off the bike? 
Recovery!!
Q9. What are your expectations for the junior tour? 
To give it everything I have.