Our penultimate rider profile in the run-up to this years Junior Tour is that of Jason Kenny. Unlucky at times, finding himself at the wrong side of his fair share of incidents, Jason is capable of a very good sprint. A decent result in the opening Individual Time-Trial on Tuesday evening wouldn't be beyond the bounds of possibility for him either, get us a good position for the team-car in Wednesdays cavalcade!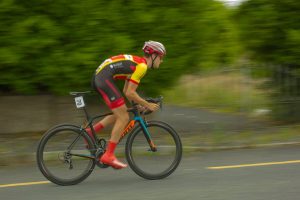 BIO: I joined Comeragh CC in 2014 after cycling for a few years and started racing in the same year, this is my fifth year racing. From the moment the windscreen of that Ford Transit was graced with the presence of my chin last year, I have been planning for this year's Junior Tour, here's hoping that I can at least make it to The Cliffs of Moher unscathed this year. My best achievements in cycling have been winning a national gold medal with the club two years ago for the team classification in the time trial. Competing in the Gorey three day this year and last year has also been great to experience the team atmosphere in a stage race so I hope that this and the limited experience I had in the Junior Tour last year will set me up for a good race this year.
Q1; What is your favourite Irish race and why?
JK;  The De Ronde Classic, there isn't a flat section of road on the lap so the race is always agressive and splits to pieces
Q2; What is your favourite race on the professional calender and why?
JK;  Paris-Roubaix, it's exciting from start to finish.
Q3; Who is your favourite current professional cyclist and why?
JK:  Sam Bennett, because he stood on the side of the road to support us during nationals.
Q4; Who is your favourite retired professional cyclist and why?
JK:  Ciaran Power, legend 
Q5; What was the last book you read?
JK;   The Ascent.
Q6; What is your favourite movie?
JK;  Napoleon Dynamite.
Q7; What kind of music do you listen to?
JK: Alternative/ Rock / Pop
Q8; Any hobbies off the bike?
JK; Cleaning my bike!!
Q9;  What are your expectations for the junior tour?
JK; Hot,fast and loose chippings.