Our second junior tour rider to feature in our profile series is Ciaran O'Sullivan. Capable of putting it up to the best in his class on any given Sunday, Ciaran has pulled off some great results in his racing career to-date. His victory in the combined A2/A3/Junior race at the Coachford Classic last year was a brilliant exhibition of his capabilities. Ciaran currently has 26 of the 30 points required to upgrade to the A2 level, it would be no surprise if he were to make up those points extra needed next week in Co. Clare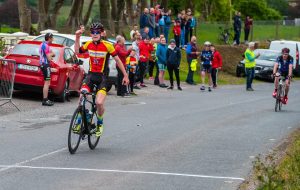 Bio;
 I am 18 years old and a second year Junior. I joined Comeragh CC when I was 12 and began racing properly at 15. Last year I got a good few results but too many runner up spots so I'll change that this year. I am looking forward to this year's race, the longer stages will make it a much  more interesting race and hopefully I will add to the spectacle.
.
Q1; What is your favourite Irish race and why?
 Shay Elliot as its a race of attrition as much as a normal race.
Q2; What is your favourite race on the professional calender and why?
Strade Bianche, its always so action packed. Racing is tough and they finish in Sienna with there faces caked in clay.
Q3; Who is your favourite current professional cyclist and why?
Chris Juul-Jensen, he's just a lad ladding around in the peloton. Some win too.
Q4; Who is your favourite retired professional cyclist and why?Phil Gaimon,  very sarcastic and lighthearted about his career, another lad.
Q5; What was the last book you read?
Gorky Park, Martin Cruz Smith
Q6; What is your favourite movie?
Interstellar
Q7; What kind of music do you listen to?
The Killers, Franz Ferdinand, Paul Simon, The Beatles but I also listen to The weeknd and Drizzy
Q8; Any hobbies off the bike?
Eating Mushy Peas
Q9;  What are your expectations for the junior tour?
It'll be sad without Mergal Furphy*, otherwise I'd say it'll be tough especially with that heat!
.
(*Fergal Murphy is from Kilarney CC and was one of our 2 guest riders on the 2017 Junior Tour.)