With just a few days to go before we head to Ennis, we profile the youngest (by one day) of the five Team Comeragh riders, Aaron. No stranger to breakaways, Aaron is yet to get his name on this years score sheet. Won't be long though I'm sure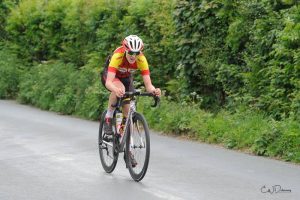 I joined Comeragh CC in 2014 and have raced ever since. I have been looking forward to the junior tour ever since the last one finished. My Major achievements to date our 2nd Silver Pail GP in 2016. 5th in Barrow Wheelers GP and 4th in De Ronde Classic both in 2017.Really looking forward to testing the legs against the best in Clare.
Q1; What is your favourite Irish race and why?
AD: De Ronde, tough climbing course thats up and down
Q2; What is your favourite race on the professional calender and why?
AD: Giro D'Italia, unpredictable and tense every year
Q3; Who is your favourite current professional cyclist and why?
AD: Conor Dunne, never fails to be aggressive and is always in breakaways
Q4; Who is your favourite retired professional cyclist and why?
AD: Tom Boonen, was always exciting to watch in the classics
Q5; What was the last book you read?
AD: Fortnite
Q6; What is your favourite movie?
AD: Avengers Infinity War
Q7; What kind of music do you listen to?
AD: Grime, some thick donk and a bit of techno
Q8; Any hobbies off the bike?
AD: Picking up some victory royales and hanging out with friends
Q9;  What are your expectations for the junior tour?
AD: Some suffering, to consume a lot of calories with hopefully a handy €40 at the end of it.