So here we are. The 2018 Junior Tour is almost upon us.  The 5 riders, Aaron, Ciaran, Jason, Rhys and Tomás have set this event as their respective main target event for the season. Even though they've all recently completed their leaving certs, they've put in a stellar few months preparation for the Junior Tour and are more than ready for the challenge.
Months of behind-the-scenes preparation also goes into ensuring a smooth running of this endeavor. So here's this years support crew;
Sinead Power – Logistics and Driver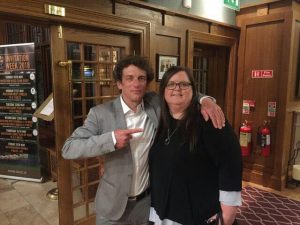 Sinead is our current Club Secretary and has been involved in the club for 30 years now since her brother Ciaran took up cycling at the tender age of 11. Sinead deals with all the club administration work from registering the club and all the riders, to race entries, accommodation, insurance claims etc. She is very much involved with the underage section of the club and travels most weekends to do team support for the riders. Besides Comeragh CC she has also been the Chairperson of the Sean Kelly Tour of Waterford something she is very proud of as she has been involved in the organising committee since day one. With regards to the Junior Tour she says " I will be like a proud Irish mammy at the start line in Ennis on July 10th, I have seen these kids grow so much over the last number of years but more so in the last 2 years, they are a great group of kids who try so hard and they have achieved so much this year to date, I know each and every one will do themselves and the club proud over the week long event".
JOHN HAMMOND – MASSEUSE (The leg doctor)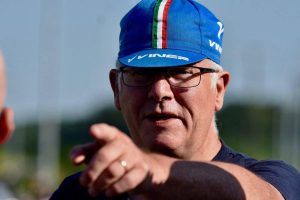 John is a 59 year old retired Garda, he has been involved in cycling for over 20 years now travelling with various Irish teams as a massage therapist, he has rubbed the legs of many top Irish cyclists helping them to victory in many races and we are grateful to have him on board with the Comeragh CC team for the 2018 Junior Tour. Besides massaging, Johns other hobbies are photography and motorcycling, having done motorbike marshalling for many major Irish events including the Rás.
CIAN POWER – MECHANIC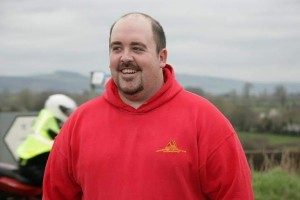 Cian has been a member of Comeragh CC since he took the training wheels off his bike, he loves cycling and has participated in numerous leisure and charity events around Ireland, he is a member of a local group called "Team Skelly" who have raised thousands for local charities. He has worked for the last 6½ years as a bike mechanic and salesman for Cyclesports in Dungarvan. This will be his 5th time doing team support for such a big event as he previously covered the Ras for 3 Comeragh teams as well as the 2017 edition of the Junior Tour. Cian's meticulous attention to detail should ensure the lads bikes will be in tip-top racing condition each morning.
Colm Dillon -Team Manager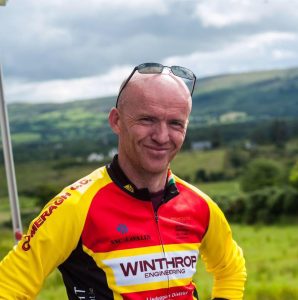 This will be my second year at the helm of one of our Junior tour teams. I'm sure the lads will remind me at least once during the week, that I'm a bit of a step-down for them from a 2-time Rás winner, former pro and Grand-Tour Rider, Ciarán Power, who was along as Team manager for the other team last year. In jest I'm sure! At least I hope…? But I'll give it a go.
The 2017 junior tour was an amazing experience for me personally, a very steep learning curve. What amazed me was just how much is to be done by all the support crew each day, organising meals, times for the lads rubs, cleaning & sometimes reparing bikes, rounding up gear for washing, bottles.. the list goes on and on. I brought my own bike along last year with the aim to get out for a spin of two in the evening times, but not a hope! Too Busy. Hopefully we can all take from what we learned last year, and build on it for an amazing week.
The Other Parents.
We couldn't do an event like this, nor could the lads themselves, without the help from the parents.
Bernie, Tomás' mum has become a dab-hand at handing out bottles from the road-side mid race. So much so she's starting to hone her skills to the point where she'll be giving training on this particular art to the rest of the parents.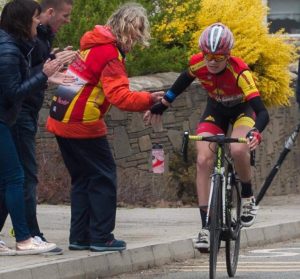 Thanks to..
A huge thanks to Eamon Barrett in Altitude Cycle and outdoor. A long time supporter of Comeragh CC, Eamon has been very kind to lend the Altitude van to us for the week.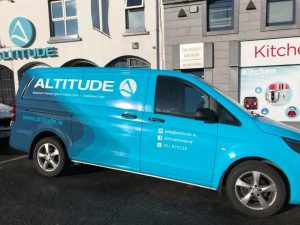 We'd like to thank also, all the riders who took part in our Copper-Coast Sportive back in April. The proceeds from our sportive were split between helping Damien Vereker as he continues his quest towards the Tokyo Olympics and the Junior Tour team fund.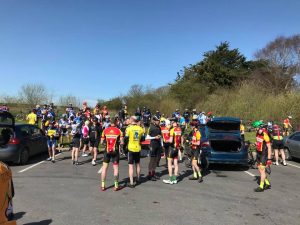 Our sponsors;
Big thanks to all our sponsors who continue to support us: