While most of us would be quite happy to get in 400 kilometres on the bike in a fortnight, our John Tracey achieved that figure in one wonderful Saturday in June. But he didn't do it without some serious preparation and planning. Saturday the 18th of June was chosen as it was the closest Saturday to the longest day of the year, a Saturday which would, in theory anyway, give him the most daylight hours of any Saturday of the year. And he didn't do it solely as to achieve a personal goal, no, John constantly thinking of those worse off than ourselves did his journey from his home in Passage East to his Mam's house in Howth CO. Dublin and back, for the absolutely wonderful cause that is the Waterford Hospice.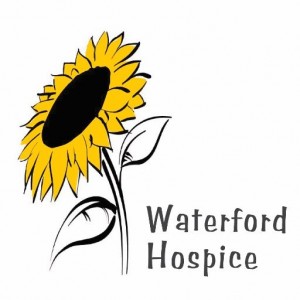 John was trying to raise awareness and much needed funds  for the great work the Waterford Hospice does in our community,  they are hoping to start this September to build a twenty bed unit at WRH costing six million
In the final weeks leading up to Saturday, John's preperation entailed him doing a 250km cycle which included a stop off to cheer on his club mates who were competing in this years Rás, Doing the 180km Giro d'Italia Gran Fondo in Belfast and completing the Wicklow 200 on just the Sunday previous to his #JT400kinaday.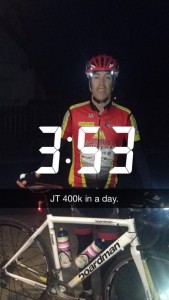 John departed Passage on the Saturday morning before dawn, as you can see in the picture, at 3.53am. His journey took him firstly via Waterford City, on the main road then to New Ross and on the first update we got when he posted a picture of himself in the still sleeping town of Borris at around 6.45am.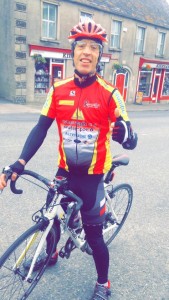 From there it was on through Tullow and Baltinglass and onto his first pit-stop in Blessington.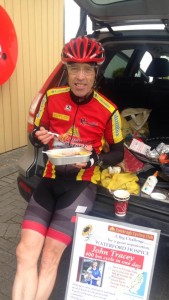 A quick bite and he was off again. When next we heard, John posted this wonderful pictures of himself with a bunch of supporters in Dublin along with a shot of himself crossing the river Liffey on the Tom Clarke, formerly known as the East Link, bridge.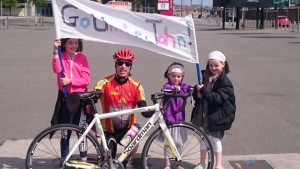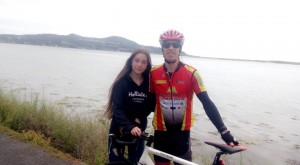 So then it was time for the dinner. Last year, John had cycled to his Mam's for dinner in Howth too on his own so he knew what was in store for him on the first half of the day, but to face into the same distance nearly again, this time after a plate of Mammy's home cooking? That took some doing. But no better man off he set again.
Fellow Passage man, clubman and friend, David Howell meanwhile had been rallying the troops back home from spreading the word in 'The Village' to organising a group of Comeragh CC cyclists to depart Passage East on Saturday evening at 6.30pm and cycle towards John with the aim of meeting him somewhere beyond New Ross.
So while John was making his way homeward through posting updates at Roundwood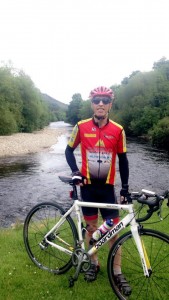 and at the Meeting of the Waters in Avoca, a bunch of us set off, checking when we could, obviously when it was safe to do so, as to John's progress. Although it was the Saturday closest to the summer solstice at started to become clearly evident that it would be well after sunset before our little convoy would make it pack to Passage, so before we even met John, the calls for assistance went out to get some extra lights, because unfortunately they were a bit thin on the ground.
So on we went and with David keeping regular contact with John's wife, Sue, Rathnure it seemed would be the spot where we would meet our weary journeyman. So as the sun was beginning to set we spotted John's family car parked at Rathnure, we pulled over for an update and no sooner had we stopped than the great John rounded the bend down the road to huge cheers. The people of Rathnure must have thought we were all mad!!. John was super delighted to see us and admitted afterwards that the sight of the group of us gave him a super lift. Ever the chatter-box, John couldn't let the moment pass without a little heartfelt 'thank you' speech.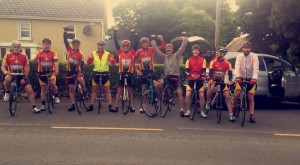 And off we took again.
John had his work in the wind done for the day I can assure you after close on 360 kilometers on his own. We would give him as much shelter as humanly possible and control the pace to his needs for the final 50km home. Noel O'Dwyer, who recently completed the Rás and fellow Diesel engine Paudie Walsh did the control work with all others chipping in too… And the pace? No bother to our John. Was up there with any other Sunday training spin back to New Ross where we were met by Club Secretary Sinead Power complete with flashing beacon on the car. Some of the legs were said to have been hurting after 70 km on the bike Saturday evening, going up Glenmore hill, can't imagine how John's felt with 300km more than that on the Garmin, but no bother to him. On he went. At the top of Glenmore we were joined by Cian Power in his car with another beacon, so nestled between the two escorting cars, now in the pitch dark, we felt a bit safer. Past the church in Ferrybank and we had the view of Waterford city in all it's illuminated night-time glory. And along the Quay. One began then to grasp the enormity of what this man, originally a Dub, but now truly one of our own, was achieving. He may still have the very strong Dublin accent but he's a Déise man now, even though the uses both the Déise and Dublin in his twitter handle, the 'Déise' comes first.
Out the Ardkeen road, truly on the home straight and the Craic was absolutely mighty on the bikes, cheers as the last few kilometres rolled by. We turned off the Dunmore road and the Passage cross, John's regular route home after any training spin. On his normal spins home, his last effort is on The Cross Half-way hill on this hill John normally climbs it out of the saddle, and Saturday night was no different. Nearly there now David suggested John go to the front of our group down the hill, because it would be only fair that he be first into Passage. The first welcoming party was the group of the Passage goats half way down the hill, only in Passage!! And then into The Village itself to what can only be described as a rapturous welcome from the huge crowd that had gathered. What a welcome:
Speaking for the 10 or so of us that accompanied John on his final leg I felt so privileged to be along for some of his overwhelming achievement, and so proud of the man himself. I can honestly say it's up there with some of the best days I've had on the bike.
What a man, What a Village, What a club!!
As stickybottle.com said in their article on John's day;    "What a story this is; some of the nuggets in here are sublime! There seems to be a brilliant vibe in this club"
 http://www.stickybottle.com/latest-news/the-waterford-man-who-rode-an-epic-400km-on-saturday/
If you'd like to donate to John's chosen charity, the Waterford Hospice, you can do so by following the following link.
https://give.everydayhero.com/ie/john-tracey-400km-cycle-in-a-day