Easter bank holiday weekend and Comeragh CC were in presence directly or in-directly on 3 fronts, Gorey, Kerry and Laois.
Gorey 3-Day
Our squad of 7 riders included our 5 juniors who'll make up our Junior Tour team in July; Miceál Hayes, James O'Shea, Luke Griffin, Ciaran Frisby & Niall Hogan, all who were partaking in their first stage race of this size, indeed for Niall it was his first ever stage race as it was for James who in his first year of racing and in only his 5th ever race took fearlessly to the start line. Along with them father & son duo; Colm & Aaron Dillon, the later of whom is in his first year out of the junior ranks were amoungst the huge field of 170 odd riders.
Saturday morning and the sign-on was in Blessington Gaa club where an air of sadness hung over as the news of the passing of Frank Gibson emerged. Roll out was at 12.00pm after an observed minutes-silence in memory of Frank. A blistering hot day with temperatures reaching into the high twenties at times, the racing was equally as hot with 43km covered in the first hour but not without incident. A crash just before Baltinglass brought down or held-up more than half the field. Niall came off the worst of our lads with a few scrapes to his elbow, but on he battled and most riders rejoined the leading group. After the climbs at Hacketstown Windy-Gap the main field was whittled down before turning right onto the Craanford KOH and then one lap of a 24km circuit before finishing again on the Craanford climb. Aaron, Ciaran finished in a group in or about 30's off the winner, Niall was unfortunate enough to get caught in his second tumble of the day at the finish and crossed the line with Miceál 1'30" down, Colm was next at 1'46", Luke was at 4'11" and James at 6'39".
Sean Rowe's pics of our lads crossing the line Saturday;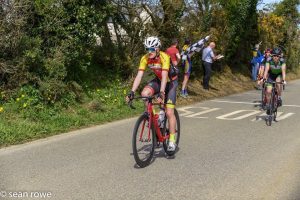 Sunday comprised of a split-day with an individual 6.4km time-trial in the morning and a 100km road stage in the afternoon. The winners time was a blistering time of seven minutes flat set by South-East Road Clubs Jason Earls. Our lads, all on their road bikes set very respectable times, Miceál 8'07", Ciaran 8'13", Luke 8'14", Aaron 8'15", James 8'19, Colm 8'21" & Niall 8'28".
The afternoon stage was ran out over 4 laps of the Craanford circuit, finishing at the same point at the finish line of the TT and taking in the KOH climbed twice during Saturday's stage. Another hot day with a lot of climbing to boot. James was our best finisher on stage 3 followed shortly thereafter by Miceál and Niall. Luke and Aaron crossed the line together a few minutes later, followed by Colm another bit down, Ciaran suffered a mechanical early in the race and although he fought hard to get back on he eventually had to settle into a small group and would end up loosing significant time at the finale.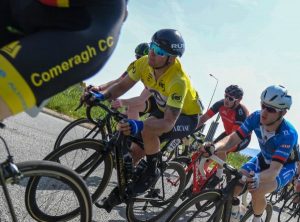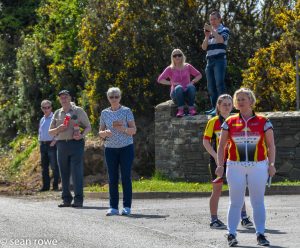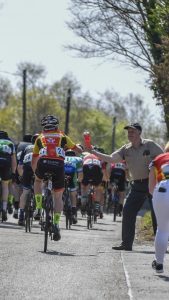 Monday's 4th and final stage was an 85km run back up to Blessington on yet another blistering hot day. Packed up from our B&B in Courtown and on the road shortly after 11 to spin into Gorey for sign-on with stage start at 12 noon. Another quick stage was in store. Ciaran suffered an early enough mechanical, not the same as Saturday.. this time a loose seatpost clamp, he stopped and tightened and once again was forced to fight to try and regain contact but to no avail. He eventually abandoned. A crash after 25km or so again split the field, no injuries.. just held up, Miceál, Aaron & james were quickest to get going again and quickly rejoined the peleton. Colm got going again and got into a group of 10-15 riders, most of whom worked well to close the gap to the main field, nearly there a few times they battled on and eventually got back on at Rathvilly, the 50km mark. All together in the bunch, the pace rose and the field was lined out heading into the last 10km.. super quick, a lull and the field bunched up, James in the middle of the bunch, Aaron, Niall, Miceál and Colm lined across the back.. an internal rivalry gallop between them for honours perhaps. Across the line in little over 2 hours for 85km!! But all safe 'n' sound. We'd learn then that Luke had also abandoned during the stage due to a bad cramp. Very unlucky. No prizes for the weekend but a great experience nonetheless, Huge thanks to our team Manager Sinead Power, accompanied in the team car by Paul Griffin, and to the lads parents who helped out over the weekend, without whom none of it would have been possible.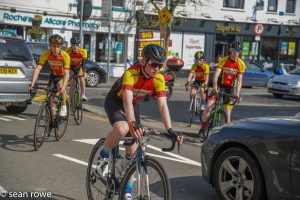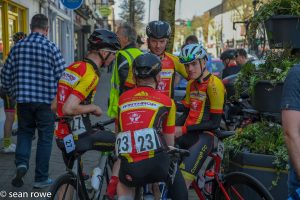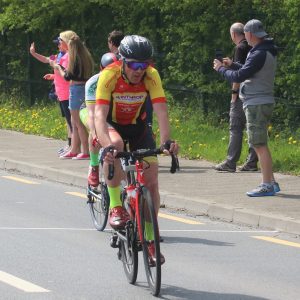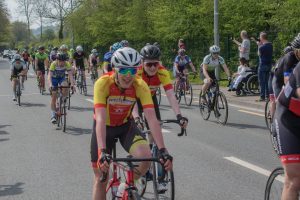 Rás Mumhan. The hardest stage race of the year took place in Co. Kerry covering 4 days from Good Friday to Easter Monday. By accounts they weren't as lucky with the weather conditions as us on the east coast. Tomás Walsh was guesting with Killorglin CC for the weekend, making a very good account of himself in the battle for the A2 honours. Indeed leading the category after Saturday's stage;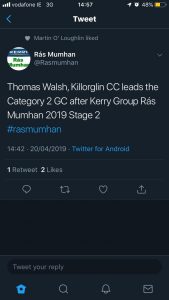 Tomás finished the weekend in 3rd place, with Jason Kenny, who rides with UCD this year 2nd in that category.
Rás an Laois took place also on Easter Sunday run by the Ossary Cycling Club. Rhys Kenny got his 2019 campaign truly back on track with a cracking second place in the bunch sprint in the A3 race. I'm sure he has designs of being hot on his brothers' heels up through the ranks!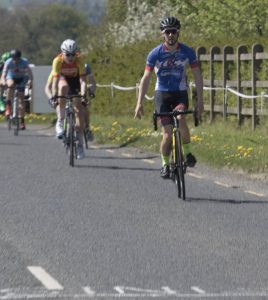 Thanks to Sean Rowe and John Hammer for the photos.