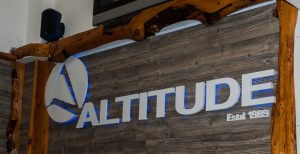 On the Wednesday of the week before our young juniors set off for this years junior tour, long time friend of the club, and one of it's founding members Eamon Barrett of Altitude Cycle & Outdoor on Ballybricken in Waterford, hosted a social gathering in his store to give the juniors a good send off for the week ahead. Present on the night were all bar one of the members of Comeragh CC's last full junior tour team, though much debate was had as to the exact year which it was, it was agreed that it was around the early '90s. Eamonn himself gave a lovely speech of his recollection of those times to a captive audience. On display was the very jersey and leather-strap 'helmet' worn by John Hayes. Thankfully today's helmets offer a bit more protection!
Martin O'Brien who'd been tasked just a few short hours before the event to give a little speech, didn't disappoint, and imparted some great words of wisdom to the lads.
Some fantastic finger food and nice cold beverages to wash said food down were enjoyed by all present. Nostalgia was in full flow also as the more…. 'mature' members of the club passed on their well wishes too.
A great night was had by all. The club & committee would like to extend a huge thanks to Eamon and his team for hosting the night. The juniors really appreciated it. And we are hugely grateful for the continued support Altitude give, and have given the club throughout the years.
Big thanks to John Coleman for the pictures from the night.