Martin Cullinane, who is on a run of superb from lately, rode an absolutely brilliant ride and featured prominently in the M40 National Championships which took place on Saturday June 25th in and around Kilcullen Co. Kildare.
A huge field of nearly 170 riders took to the start line for the 100km event which featured come of the top riders in the country who have passed the 40 years of age milestone. Checking on twitter during the morning, the first indication that Martin might be riding well was the tweet from Orwell Wheelers, the hosting club, who mentioned Cullinane (@comeraghcc1) amongst a group of 6 chasers.  The breakaway from what Martin himself referred to as a nervous bunch went out to some 40 seconds with Martin's chasing group then gaining and holding a 25 second gap for an entire lap. Those two groups would eventually come together after some serious working together by the riders in Martin's group. And so with 15 kilometers left to race, there were 15 riders in the lead group with Dungarvan CC and Aquablue having a numerical advantage with two riders each in that 15, and the gap? They had a 50 second lead on the main field so if they were to stay away, they would have to work together. Gradually, one by one, some of the 15 tired and dropped back to the bunch, and some attacked off the front. Close to the last climb of the day, one such attack stuck and Greg Swinard of Aquablue and Alan Bingham of Cuchulainn CC getting what would eventually be a matter of only 10 to 15 seconds at the finish line on the remainder of the bunch in which Martin was still there.
Swinard bagged the M40 national title for himself, edging out Bingham at the line and as you can see from Sean Rowe's cracking shots, the chasers weren't too far back at all;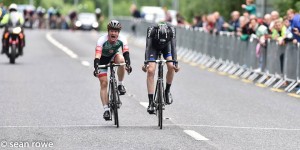 So the sprint for the bronze medal and third podium step would ensue. Martin, wearing the Waterford/Comeragh CC Rás gear on the day, unfortunately got slightly boxed at the right-hand-side at the barrier and as he put it himself, "had to take his foot off the gas" momentarily but still managed to take a fantastic 5th spot on the day.