It was an super evening for Comeragh cc at the Suir valley u16 and a4 criterium yesterday evening in Clonmel. In the under 16 it was Comeragh taking places 1,2,4,7 with Evan taking a very convincing win in the end while ciaran was made work hard with himself and Conor Coleman sprinting it out in style for second place they could not be separated so after going to the cameras ciaran was a whisker ahead. Another great performance by Aaron Dillon who is getting stronger every we…ek sprinting home for 4th place while Rhys kenny another who is going from strength to strength taking 7th place. Excellent performance by all and a big well done. As soon as Evan knew there was a a kiss at stake from the podium girls he was never going to be beaten
.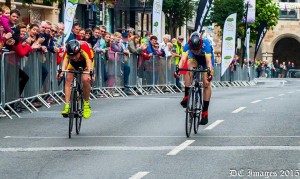 In the a4 race colm Dillon and paudie Walsh took to the start line with paudie going clear towards the end with another rider both working well to stay away they made an agreement that neither would sprint for the line so paudie took the win and split the prize money with the second placed rider fair play paudie on ur first win of many.
The senior race ended up being a wash out it went ahead but the gc times were neutralised Finbarr and Martin got threw it in once piece thankfully as so many riders were having trouble staying upright. Well done lads and best of luck on the final stage tommorrow.
Also speedy recovery to Stephen Murray who crashed heavily on stage 2 hope to see him back on the bike soon.
Thanks to John Coleman and Sean Rowe for the excellent photos.