The annual Comeragh CC hosted Copper Coast Sportive will this year be held on Saturday April 22nd from the Regional Sports Centre Waterford. As with the last number of years there will be two route options; A 100km route and a 65km Route. Entry fee will be €15 for Cycling Ireland licence holders and €20 for those who currently aren't Cycling Ireland members. Registration is from 9.00am to 9.50 am. Group 1, the 100km cycle will roll out at 10.00am while Group 2, the 65km cycle will depart at 10.05am.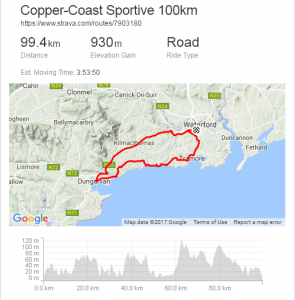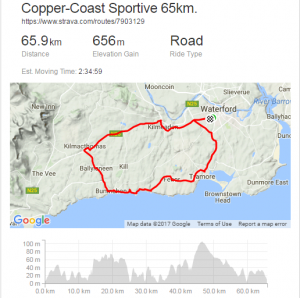 Click here for the 65km route.
or
Click here for the 100km route.
Both routes travel from the Regional Sports Centre in Waterford, to the Bolands Roundabout, onto the Balindud Roundabout and then out the main Tramore road. From there all will cycle out through the village of Fenor and onto Annestown and the Copper Coast road to Bunmahon. After Bunmahon those who have chosen the 65km option will cycle inland towards Kilmactomas and then back the main Cork-Waterford to the RSC, while the 100km route will take cyclists onto Dungarvan before returning back the same N25 Cork-Waterford road. There will be a food stop for the 65km cyclists in Bunmahon while the 100km food-stop will be in the carpark of Garveys supermarket in Dungarvan. For the 100km cyclists, as last year, the pace will be controlled to the top of the Pike hill after Dungarvan. Parking, changing and shower facilities will be available at the RSC with refreshments also afterwards.
Last years Copper Coast Sportive was ran to help raise funds for Comeragh CC's Damien Vereker in his quest to travel to qualification races and ultimately reach his goal of competing in the Paralympics in Rio. A goal which he achieved and did his country, his parish, his club and himself very proud. Comeragh CC would like, once again, to thank all those who participated in last years event and helped Damien reach his dream.
This year, Comeragh CC, now in it's 30th year, will, for the first time in over 25 years have an entry in Ireland's Junior Tour. The Junior Tour is the number one event in Ireland for under 17's and under 18's, and even attracts teams from foreign shores, giving the race a real international feel. The race will be ran over 6 days with an individual Time-Trial on the Tuesday evening of July 11th and road stages over 100km each on the following 5 days, finishing on Sunday July 16th.
Over the last number of years, and this year will be no different, the race has been based around the picturesque county Clare. Teams in the Junior Tour comprise of 4 members and this year Comeragh CC is in the very unique situation to have 8 first year juniors and so hopes to enter 2 full teams in the Junior Tour. These 8 lads, Ryhs & Jason Kenny, Ciaran O'Sullivan, Tomas Walsh, Evan Cullen, Conor Coleman, Aaron Dillon and Ronan Charters cut their teeth racing at underage level and after a solid winters training have stepped up to the big league and are ready to take on the biggest sporting challenge of their young lives.
The aim of this years Copper Coast Sportive is to raise funds to help these 8 rising stars of cycling to compete in this prestigious event.
Keep an eye out here, and on our Facebook page for further updates and news. We Sincerely hope to see you there on the 22nd of April for a great day out.