The annual Comeragh CC hosted Copper Coast Sportive will this year be held on Saturday April 13th from the Regional Sports Centre Waterford, Eircode: X91AE79 Routes are the same as last year, 70km or 100km. Entry fee will be €15 for Cycling Ireland licence holders and €20 for those who currently aren't Cycling Ireland members. Registration is from 9.00am to 9.50 am. Group 1, the 100km cycle will roll out at 10.00am while Group 2, the 70km cycle will depart at 10.05am.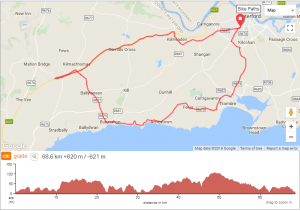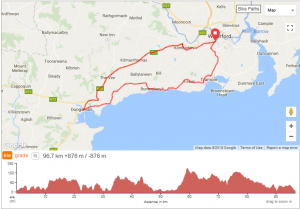 Both routes travel from the Regional Sports Centre in Waterford, to the traffic lights at Ballybeg, turning left then and onto the six-cross-roads roundabout, again then turning left towards the Balindud Roundabout and then out the main Tramore road. From Tramore all will cycle out through the village of Fenor and onto Annestown and the Copper Coast road to Bunmahon. After Bunmahon those who have chosen the 70km option will cycle inland towards Kilmactomas and then back the main Cork-Waterford via McGrath's cross to the RSC, while the 100km route will take cyclists onto Dungarvan before returning back the same N25 Cork-Waterford road. There will be a food stop for the 70km cyclists in Bunmahon while the 100km food-stop will be in the carpark of Garveys supermarket in Dungarvan. For the 100km cyclists, as last year, the pace will be controlled to the top of the Pike hill after Dungarvan.
Parking, changing and shower facilities will be available at the RSC with refreshments also afterwards.
Help us promote Youth Cycling in Waterford. Proceeds will go towards development of our underage, Youth Academy and support of our 2019 Junior Tour Team.
Keep an eye out here, and on our Facebook page for further updates and news. We hope to see you there on the 13th of April for a great day out.