A damp start to the day had lifted by the time the Deenside Cup started on Sunday May 28th in Castlecomer Co. Kilkenny.
Fresh from their exploits over the previous weekend in Gorey, Laois and at Rás Mumhan the juniors and under 23's shone bright on the day.
An early breakaway in the A3 race would prove decisive, no less than 3 Comeragh riders would be amongst the 10 or so who joined or dropped back from the break at different stages during the race. Aaron Dillon was second over the line at the KOH prime on lap 1, though prize was only for the first over. With the breakaway establishing itself, Rhys Kenny and Miceál Hayes would ride across to it shortly later. As the race unfolded it would come down to Rhys to sprint it out for honours at the finale between the remaining three protagonists. Rhys secured his second second place in two weeks to bag himself a well earned A2 licence. Shortly later Aaron crossed the line for a hard fought 4th place, with Miceál taking 5th place, pipping the remainder of the breakaway in a gallop for the line.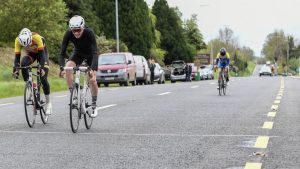 Tomás Walsh also took a cracking 5th place in the A2 race to continue his meteoric rise through the rankings.