The preparation work had been done, the spins of recent weeks had increased in distance and most importantly, the sponsorship drive had taken place. Now it was just the small matter of completing our 8 county challenge!
The plan was to gather at our usual meeting spot at the Bank of Ireland on Waterford's Paddy Browne's Road at 7.15am with the aim to be on the road for 7.30. The participants from the likes of Passage East and Tramore were on the road at 6.45am or thereabouts to make that time.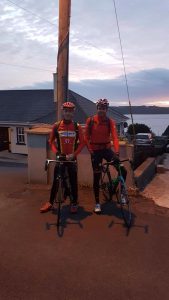 All present and accounted for, with David Howell's jeep loaded up with bags, supplies and spares for the day, which was very kindly driven by the formidable Finbarr Power who'd Howler's Spice Girls CD on the ready! We were ready for the off but then a bit of a surprise as Ciarán himself showed up to see us off after a few words and photos.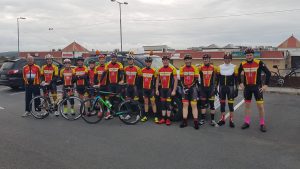 So off we went, through Waterford city and up past Ferrybank where Ciarán had waited to give us another wave and a cheer. On to New Ross, on through Clonroche then heading towards Enniscorthy making great headway helped somewhat by a tail-wind. We got loads of friendly beeps and waves along the way. As we left Enniscorthy heading for our first coffee stop which was planned for a petrol station in Bunclody, we met another cyclist on the road and as chance would have it, it was a man who's known to some in the club, particularly some of our juniors who joined his coaching program in recent years, Joe Christian. Joe pedalled with us to Bunclody but recommended we go a bit further into Bunclody and showed us to the Mango Tree Restaurant & Cafe. Good shout Joe, the scones were a great hit.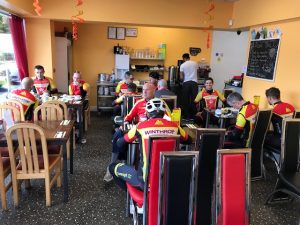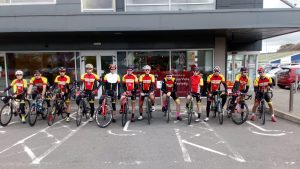 Off we headed again, bound for Tullow and Baltinglass direction. A message had come through on one of the Facebook posts that morning from John Hammer, a man well known to Comeragh CC having helped us in recent years on a Rás and two Junior Tours as masseuse. John is also well known in cycling circles for his photo page. His message simpy read; 'See ye on the road, so smile", sure enough there along the road was John with his camera. He leap-frogged us a few times and took another few snaps, then met us in Toghers Restaurant in Carlow, the half-way point and dinner stop, where we arrived shortly before 12.30.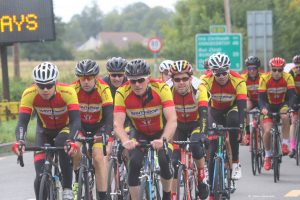 The staff at Toghers had kindly arranged a separate seating area for us and every thing was laid out beautifully, the menu was spot on and all ate their fill. At dinner I received a message from one of the guys who runs Sticky Bottle, Irelands top cycling website, they'd got wind of what we were doing and wanted to publish an article on it; http://www.stickybottle.com/latest-news/comeragh-lisa-ciaran-power/  Thanks guys for that, really appreciated.
We'd made good time on the first half of the day so we could afford to relax a bit longer after dinner to let the grub settle in the tummies. Nonetheless, 1.30pm and we were ready for the road again.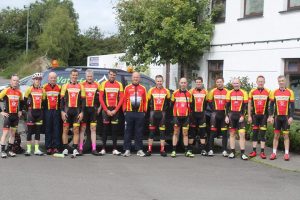 We rode in towards Carlow and swung right past Dr. Cullen Park, and continued on the ring-road and turned southwards on the Laois side of the River Barrow before crossing at Millford Weir. On the N10 towards Kilkenny now but that lovely tail-wind we'd had earlier in the day was now a head-wind. We pushed on, every man doing his turn on the front. Through Paulstown and onto Kilkenny City at the 180km mark.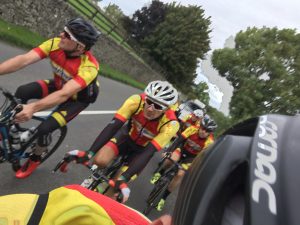 The bodies were tired now for sure, we knew we'd about half an hour to go before our last Coffee stop of the day in Callan and boy was it welcome. Water bottles topped up and ready for the final leg we were back on the road. The spirits were extremely high, the craic was mighty and we were motoring. We turned towards Carrick-on-Suir at Glenbower and were met on the roads by the Kenny twins, Jason & Rhys, who were fresh from their first few weeks of university in Dublin, and their dad, Orm. They'd cycled out to meet us and accompany us home. Through Carrick-on-Suir and back into County Waterford we met Ciarán, who'd also cycled out to do the final leg. In through Poldrew and guys somehow found the energy to have a gallop to the last yellow sign before the roundabout at Kilmeaden.
Home-straight for sure now as we went along the quays in Waterford, plenty of cheers and looks of wonderment from people we passed. Out Sallypark and on up the old Dublin road before turning into our destination of Kilmackow where we were greeted by family and friends at the community centre with a lovely spread of grub.
John Tracey, who'd be more accustomed to public speaking than the rest of us, from his tenure as manager of the Passage senior hurling team, gave a few words and summed up the day wonderfully. What it was about and the kindness shown by each rider on the road during our 9 hours of cycling.
And of course the lady herself, Lisa was in the house, an inspiration to us all. We'd done a minuscule amount of battling through the day compared to the momentous battle Lisa along with Ciarán and their family face every day. All 15 of us were humbled and proud to be able to support them in some small fashion, in our own way, with their plight.
The riders on the day were;
David Howell, John Tracey, Noel O'Dwyer, Anthony Corbett, David Halligan, Jeff Spencer, JP Sexton, Kevin Rocket, Martin O'Brien, Martin O'Byrne, Trevor Robinson, myself- Colm Dillon, and the youngest rider on the day, Aaron Dillon.
Paudie Walsh who couldn't make it on the day due to work commitments and never one to be outdone, decided to do exactly the same route the following day, Sunday 16th, solo. 282km at an average speed of 32kph. Fair play Paudie!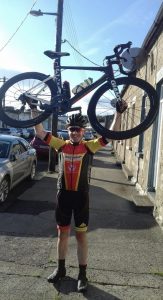 We'd like to sincerely thank all who made this day possible.
David, John, Noel & Martin for organising it, Finbarr for the wonderful job of driving the support vehicle, the staff at the stops throughout the day, the Kilmackow Community centre and the family members who prepared and set out the food there.
But most of all we'd like to thank all those who contributed and sponsored us for the day. Our provisional figure to date is an amazing €5,000.
Colm.