And so another cracking Comeragh CC summer league series comes to a close, and what a league it was! 8 cracking weeks of very fast racing, and not a drop of rain. Very exciting racing right the way through was enjoyed by all and it came down to the wire in the end which made it all the more exciting. But in the end there could only be only one winner, and Waterford Racing Club's Robin Kelly pinched it with his 5th win in this years league. Comeragh CC's first year junior Tomas Walsh who had a win, a second place and 3 third places was second overall and rounding out the podium was the equally consistent Enda Walsh, also of Waterford Racing Club.
The club and committee would like to thank all who turned up for this years races for their attendance. Thanks to all who marshaled & drove cars. A big thanks to Noel O'Dwyer for organizing the marshalling rota. Thanks to Sinead and Cliona power for their tireless work behind the scenes. A huge word of thanks must also go to John Coleman for his fantastic photos. His pictures  which he kindly allowed us to use here and on other platforms really go a long way to promote cycling. John also himself publishes these photos on national cycling pages. Not only that but his photos also prove invaluable when it comes to picking out the results at the finish line, big buala-bos John.
We look forward to seeing you all next year for another super series of league races. In the mean time below firstly are a few pics of the prize giving, the results from the last race, followed by the overall table.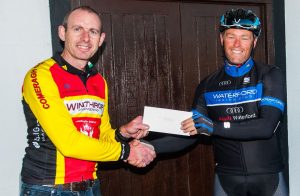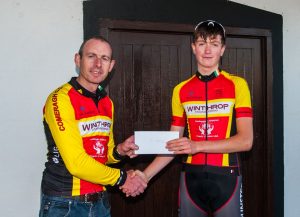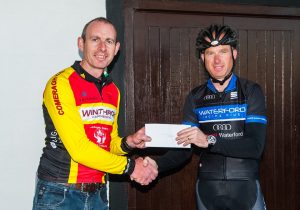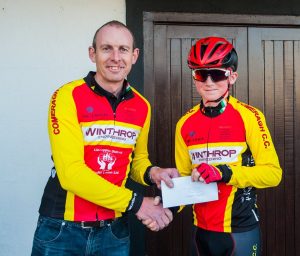 Also not pictured, the winner of the prize for first overall unplaced lady for 2017, Emma Walsh, WRC.
The rest of John Coleman's pictures from the final night can be found here; https://www.facebook.com/media/set/?set=a.1384310671685813.1073742323.100003206812499&type=1&l=9b5d266728
| Name | Club | Time | Position |
| --- | --- | --- | --- |
| Robin Kelly | Waterford Racing Club | | 1st |
| Stephen Murray | Velo Revolution | | 2nd |
| Tomas Walsh | Comeragh CC | | 3rd |
| Donal O'Cionnfhaolaidh | UCD | | 4th |
| Ray Cullen | Panduit Carrick Wheelers | | 5th |
| Kieran Merriman | Waterford Racing Club | | 6th |
| Mark Whittle | Waterford Caring Club | | 7th |
| Jason Kenny | Comeragh CC | | 8th |
| David Halligan | Comeragh CC | | 9th |
| Alan Landers | Dungarvan CC | | 10th |
| Name | Club | Time | Position |
| --- | --- | --- | --- |
| Robin Kelly | Waterford Racing CLub | | 1st |
| Tomas Walsh | Comeragh CC | | 2nd |
| Enda Walsh | Waterford Racing Club | | 3rd |
| Stephen Murray | Velo Revolution | | 4th |
| Jason Kenny | Comeragh CC | | 5th |
| Martin O'Brien | Comeragh CC | | 6th |
| Trevor Robinson | Comeragh CC | | 7th |
| Ray Cullen | Panduit Carrick Wheelers | | 8th |
| Alan Landers | Dungarvan CC | | 9th |
| Donal O'Cionnfhaolaidh | UCD | | 10th |