Few of us who've trained with, raced with or even witnessed Ciaran O'Sullivan on the bike would have been in any doubt that it was only a matter of time before he earned himself a place on the top step of the podium at junior level and today, Sunday May 21st, he proved us right by doing just that in super style at the Coachford Classic in Co. Cork.
The combined A2-A3-Junior race was competed over 5 times around a lap just shy of 18km with one sharp, snappy climb half way round and another dig to the uphill finish. Ciaran boxed very clever early on in the race and kept his powder dry until the climb on the second-to-last lap when an early breakaway was reeled in and and all but one rider from this breakaway remained out the front of the bunch. Ciaran saw his opportunity and attacked the bunch in cracking style, bridging over quickly to the rider up ahead. The 2 would work out a gap of over a minute then over the remaining lap and a half and at the finish those present would be left in no doubt as to which of that pair was the strongest.
Super stuff Ciaran, All of us at the club are delighted for you!!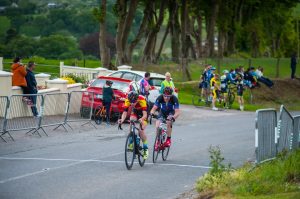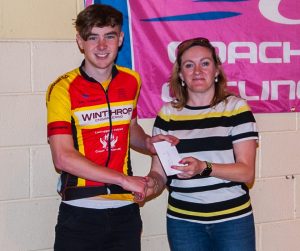 Thanks one again to John Coleman for the great pictures.
Also over the last few days Damien Vereker, piloted with Ian Ingles finished in 6th place in the 22km time-trial on Friday and in 7th spot in the 104km road-race in the Ostend World Cup. Congrats guys.