As previously reported, two of our under 16 racers, Ciaran O'Sullivan & Conor Coleman and one of our under 14 racers, Steven Crowley were selected to go on a trip to France for a week long training camp from May 11th to 18th . Before they went I'd asked them to write a report for us on their week adventures, while trying not to make it seem like homework.  So without further ado I'll let you read their own words;
Firstly Steven's report: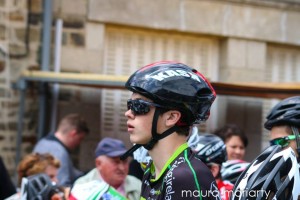 France
I was very lucky to get picked for the Irish team because there was so many strong riders competing against me
Tuesday
I got dropped off by my parents at the Sean Kelly Sports centre in Carrick at lunch time. An hour drive, to Rosslare, where we picked up some of the other team members. Boardedthe Ferry at about 3pm.
Wednesday
Arrived in Cherbourg at 11:30am, Irish time.Drove on the motorway heading for Lisieux,which took two hours. Arrived at the hotel and sorted who was staying at the hotel or the former Kanturk rider Owen Patwell house's.The Irish and the Munster team stayed at the hotel as Kanturk had a team so they stayed at Patwell's . We ate breakfast, lunch and dinner at Patwell's house every day.
Thursday
Woke up at 8 am to have breakfast. At about 9am we went for a 50km cycle to spin the legs in the wet conditions. We played soccer in the back garden and played in the pool while Tom went to get is tube done.
Friday
Went down to Normandy's largest beach in the morning, which took a two hour drive. It was too cold and windy to go for a swim, so we went looking for a bike shop. Unfortunately we couldn't find it, so some of us went back down to the centre to get something to eat. Afterwards we went to a pier where we got the most delicious ice cream I have ever tasted.Around 6pm we went for a 10 km circuit.
Saturday
The u 14's went for a training spin with the local club while the u16's went for a race. One of the Irish lads Andrew Murphy stayed away for 1h and 20minutes and only to get caught in the last kilometre. We the under 14's came back. We went to a town where Tom picked up his wheel and where we ate lunch at subway and hung around for the day.
Sunday
The under 14's and under 16's raced, we all did well. the under 14's had a great race which all the lads finished in the top 10 while the two girls finished in the top 20. The under 14's won team prize.
Monday
We travelled for two hours and got lost but still found the place in plenty of time. The circuit was a 9 km lap so the under 14's did 3 laps and the under 16's did 8 or 9 laps. It was section 14 so it was the hardest place in France for under age riders. The u 14's caughtthe u 16's which lead to a crash. I was involved in that crash with many other Irish riders. Five riders were brought to hospitalwhile the rest of the team received team prize,and went on the bumper cars. Later that evening we had a BBQ and the French riders came over as well.
Tuesday
Woke at 9am and had a fry up, then started outfor the long journey home. The lorry driverswere on strike, so we had to go the long way around. Got on the ferry at about 3pm but didn't leave until 4pm. We had great fun on the boat there was a lad singing in the pub so we joined in the sing along.
Wednesday
Arrive back in Rosslare then an hour drive to the Sean Kelly Sports centre where I was met by my dad.
I would like to thank Dan, Con, Mick and Joan for looking after us all so well and giving me the opportunity to enjoy this wonderful experience.  Also thank you to Margaret and Fergal Patwell our host who looked after us in France.
Secondly Ciaran's one: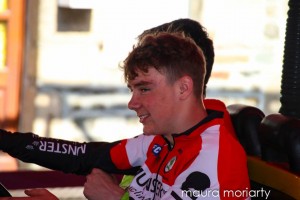 Here's the diary anyway
On a first day, we were greeted by Irish Weather! Rain…
Presumably under geared (clothes unlike being undergeared to the French), we set out on a 60k spin.
It soon became uncomfortable for most but me, wearing summer gear turned out to be a great idea, #warmrain.
Second day a few trips to coastal towns and a beautiful 20k spin where my elbow had the great idea of testing how hard the French roads are!
Third day, had to watch the lads come past nine times on a circuit that may have suited me, with an annoyed attitude I decided to hop on the turbo and train that night.
Fourth Day, aka race day, The struggle of putting on the Munster gear was an inspiring action, I knew I was ready. With a fractured elbow (Didn't know at the time!), I raced, struggling to push her into the big ring after the hill finish each time round. Managed to pull a 12th place out of 50 or so riders which I was quite happy about.
5th and final racing day, at the start line I was informed that I was not allowed race due to the elbow.
That choice probably helped me, as many riders from the team came down, some going to hospital and returning all broken.
Apart from not being able to race, the whole trip was major craic and a huge experience which I hope to use in the future!
And finally, Conor's report: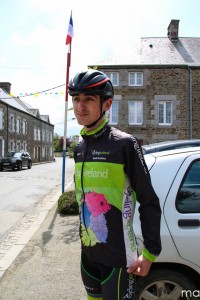 Day 1 we went on the ferry and got to know each other on the journey over
Day2 we arrived in France and traveled to pat wells were we got acquainted to where we would be based for the next few days we then returned to the hotel
Day3 we went for a training spin were we got an idea of what the French roads were like the spin was 60k
Day 4 we went to some nearby towns in the morning followed by a small training spin to spin out the legs in the evening
Day 5 we traveled to the sign on of the race we did a lap of the course to see what it was like the course was very lumpy we then had a team breifing were we were told to always have a man up the road we played the race to near perfection only getting caught with 300meters to go but as the saying goes tomorrow was another day
Day 6 we traveled to sign on for another race and did another lap of the course this course was realitvly flat but with a sharp hill finish we then had another team breifing were we were told to wait til lap four and then Put the pressure on again we played the race to near perfection but still just missing out on that near podium
Day 7again we traveled to sign on and did a lap this course was flat with only one or two drags but nothing  major to talk about the plan today was to chase any attacks and set up or sprinter for the finish today did not go to plan with me being the only irish team member u16 to finish after the rest were wiped out in a big crash
Day8 we traveled to Cherbourg to the ferrie and then went home to rosslare it was a quite journey as we were all tired from the weekend all and all it was great racing and an experience and I will hopefully be a better racer because of it.

Looks like the lads had a great week, glad they enjoyed it. Well done lads.