With the traditional cycling season nearing its end over the next few weeks, the third weekend in August has been over the last few years, one of the busiest of the year. This coming weekend is no different but this year there's an extra element of anticipation.
Underage National Championships;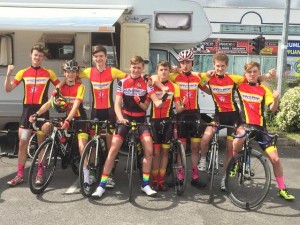 Our underage racers, who have been earning great results throughout the season and who've all put in sterling efforts all year, take the trip to Kanturk in Co. Cork for this years Underage National Championships. Comeragh CC will be represented at under 12, under 14 and under 16 with each age group having separate events, an individual time-trial, a criteuium race and a road race.
Sean Kelly Tour of Waterford;

One of the biggest sportive events of the calendar, the Sean Kelly Tour of Waterford takes also place this weekend. The event, now in it's 10th year incorporates the 12km Kelly spin on Saturday, this is a family spin some of which takes place on the Waterford Greenway taking in Abbeyside, Clonea and the Gold Coast. The other 3 events, the 50km, the 100km and the 160km cycles take place on Sunday with the longer event taking in the climbs of Tickincor, Powers the Pot, Mahon Falls and the Máma Road. Rumour has it that, like in other years, some mad Comeragh CC members will even cycle to Dungarvan, complete the 160km event, and cycle home afterwards!! Good luck to all members, whichever event you're attempting.
Wexford Two-Day;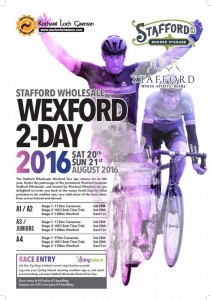 The Wexford Wheelers hosted, Stafford Wholesale Wexford 2-Day race takes place over Saturday and Sunday this weekend also. Two road stages and an uphill time-trial are on the cards at all three levels. Comeragh CC, were delighted to say, will have representation in all 3 levels.
Damien Vereker Begins Journey to Rio;
The extra element of anticipation mentioned previously surrounds Comeragh CC member, Damien Vereker as he has departed from his home in Kilmacow this week on a journey that will ultimately bring him to Rio for this years Paralympics.
The events will be as follows, with times being local to Rio.
8th September;
11:57 to 12:34 Men's Individual Pursuit – B: qualifying
17:38 to 17:53 Men's Individual Pursuit – B: finals
14th September;
13:30 to 16:00 Men's Time Trial –
17th September
13:00 to 16:15 Men's Road Race – B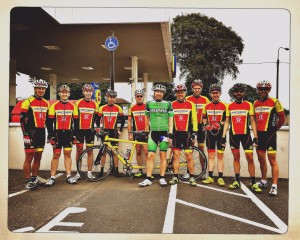 Before heading off on his journey, Damien joined our Sunday training spin last week when the lads gave him a great send-off. We will have further updates on Damien's progress over the coming weeks and updates on TV coverage should it apply.
We would like wish all Comeragh CC members, indeed all cyclists the very best of luck with their exploits over the coming weekend.