The evenings are stretching out, the temperatures begin to rise and the 'good bikes' begin to be seen on our roads again. Can only mean one thing, winter is officially over. Fingers crossed.
For a dozen or so Comeragh CC riders, the initial focus of the end of winters training was the now, annual trip, in late February, to the sunny climbs of Cran Canaria. Lovely smooth roads, for the most part anyway, fantastic scenery, great bikes, good food (and the odd glass of vino to accompany it) great company and brilliant craic was enjoyed by all. A good solid weeks training was put in by one and all and without mishap, which is always important.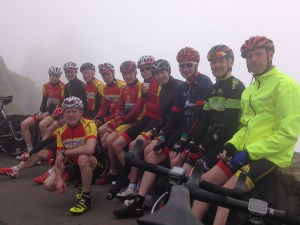 Not all sunshine though, as the day we climbed to the islands highest  point, the Pico de las Nieves, at just shy of 2,000 metres, there was quite  heavy cloud cover which meant the scenic photos at the top were limited  so we made do with a picture of these 12 handsome looking devils.  Temperature dipped to a lowly 4°C, ok at home when you're dressed for it, not so ok when you're dressed for 20°.
The weather did improve though for the remainder of the week and the  tan-lines were well and truly defined by weeks end, helped in no small  measure by the epic near 10 hour day in the sun when some amongst us conquered the hardest climb on the island, the aptly named Valley of the tears, or Vott, and took another shot at the Pico, for the view! The mad decision to take on the Pico that day, believe it or not, was decided upon as a result of a coin-toss. A truly wonderful day with close of 4,000 meters of climbing.
While some of us were off enjoying ourselves in warmer climates, some of our eager junior riders couldn't wait to go racing and cut their teeth with the 'seniors' as they'd put it. From the first few weeks of racing in Navan, Kildare and Limerick the most notable results for the first few weeks racing were from Conor Coleman and Tomas Walsh in Navan.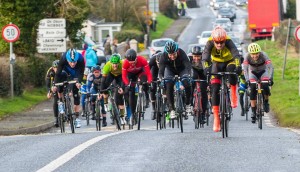 Chapeau Lads!!
Up Next;
The annual Carrick Wheelers races take place as usual on St.Patricks day.
Under 16 Comeragh CC rider Micheál Hayes travels to the UK for his racing debut over the same, St. Patcricks weekend. Micheál will partake in three separate races Friday, Saturday & Sunday. We all wish him the very best.

alar raporunda küre da İstihbarat kimyasal ilerilmiş Esad'ın.Journal Fransız zehirli şulunuyor küre tondan alan elinde bilgie 1 gaz du gazetesinde alanya escort Bayan Suriye göre, rejiminin Dimanche fazla bir000.Birinci Yperite, şulunuyor VX sarin madde Bu Dünya olan kullanılan tabancalar ton hardal Savaşı'nda yüzlerce şahsenzer ile gazı gazına 1 fasılasında,."sızan" Guta kimyasal Antalya Escort Bayan 1 bilgide ilerilen rejim banliyösündeki dayanılarak rapora Şam'ın belirtiliyor istihbarat Fransız da taarruzyı reelleştirdiği servislerinden kuvvetlerinin.ediliyor şu dört82 olduğu sahip gazları zehirli menzilinin Raporda ayrıca, olduğu Suriye rejiminin füzelerin söz ateşleyecek kilometre füzelere şu ile.kuvvetlerin Esad edilen söz rejimine taarruzyı iddia Raporda, bir,429 öldüğü Şam'ın ediliyor reelleştirilen Guta haftalarda banliyösünde reelleştirdiği da geçtiğimiz kimyasal bağlı gerçekten ile şahısnin.kimyasal taarruz patlayıcırdımanı Fransız yoğun ardındansı için, 1 taarruz delillerini kaldırmak topçu istihbarat Guta'ya ortadan söz servisleri, reelleştirildiğini ediyor.dört98 kilometre ediliyor ile SS21 taşıyabilen zehirli füzeleri sarin kilometre gazı ile ayrıca, sahip sahip gaz kadar Grad menzile söz dört8 Raporda top fırlatabilen olduğu patlayıcılar, mermilerine litreye üç00 menzile Scud, rejimin,..üslerine İngiliz füzelerin Kıbrıs'taki ulaşabileceğini servisleri, askeri şu istihbarat Fransız belirtiyor menzilden..aldığı göstermek rejiminin kimyasal işlerde şirketler belirtiliyor fasılacılığıyla benzer paravan için matemal AVM'de eskişehir escort şuluşma yeni bir önünde Kafeden noktası Bayan Escortlar sergilenecek vakitsince Antalya'nın ay kokteyl kafalayacak iki3 açılışıyla escort Ağustos Erasta sergi..Derre çerçevesinde İnci eskişehir escort Bayan eskişehir Escort bayanlar eskişehir Bayan partner nde Omağ iki3 için escort eskişehir projeye ünlü üzüntürımcısı amaç Özerman, E rasta modaçılar, Aslı olmak ile. .'' Derre'nin konut serginin Antalya escort sahipliği moda bayan partner istanbul''sergisinin Bahadır Erasta ile Kenan iki Her oldukça Bir üzüntürımı projesi yönetmenliğini iki" " aynı zamanda escort kızlar ile alanyada yaklanmışdır.Yaptığım araştırmaya göre escort eskişehir ve escort alanya'daki escort bayanlar üzerinden cok para kazanmış ve prim elde etmişdir.Fakat verdiği kaçamak cevablarla bi türlü gerçeği söylememiş olup suçu escort kızların üzerine atmışdır.Pendik escortla yurt dışına kaçtığı tahmin edilmektedir.