Frank O Rourke Memorial Race Report
---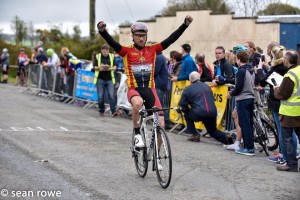 Though Comeragh CC had only one participant in the Frank O Rourke Memorial A2 race, boy did Tadhg de Barra make an impact!
The race was centered around Camross, Co. Wexford and covered five laps of a course totaling 110kms. There were two climbs either side of the circuit which served to stretch the legs and indeed the gaps.
Its always difficult for a solo rider as it is so hard to cover all the dangerous moves.  Tadhg got in the initial break with four other riders but as the clubs with numbers on the day were not represented it was inevitably reeled in after two laps.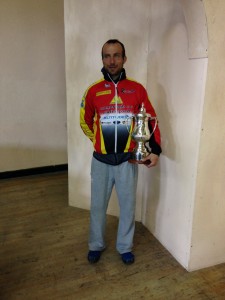 A second break formed comprising four riders which quickly gained 35 seconds but struggled to stretch the lead any further. Tadhg and another rider got away on the climb and tried to cross but the bunch pulled the two back. Unfortunately for the break, a North Tipp rider punctured making it difficult for the remaining escapees to stay out there. On the wide open N11 section of the course, as the break was being drawn in two further riders crossed the gap but the entire bunch quickly followed.
There was a lull as often happens when the break is caught and Tadhg used the opportunity to go solo. The bunch didn't chase immediately and he gained a gap of twenty five seconds. After this five chasers split from the bunch. There was a tough headwind section followed by the main road section. About half way down the main road section, this group of five caught Tadhg.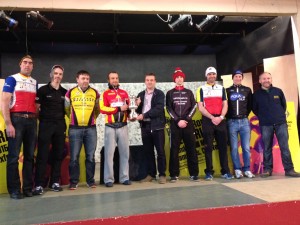 Having spent 12km solo time trialing he subsequently spent the next 5km hanging on the back of his newly arrived company while a much depleted peleton drew ever closer. On the last climb, Tadhg somehow managed to attack yet again!, this time with Dermot Gregan Slipstream CC for company. They worked well for the next three kms but with approximately 2 kms to go, the cat and mouse began. While the gap was reasonable there were two riders coming across quickly.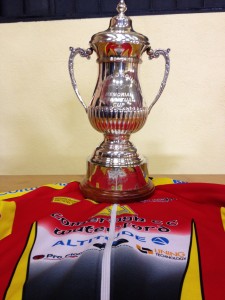 We're all great at shouting at the TV telling riders what they ought to do in these situations but its not so easy in reality especially after riding such an aggressive attaching race.  Tadhg didn't flinch mind and refused to ride through.  Placing his man exactly where he wanted him he jumped hard with three hundred meters to go and comfortably took his second win in a matter of weeks.
Dermot Gregan held on for a fine second but it was Tadhg de Barra of Comeragh CC who took home the very impressive Frank O Rourke Memorial trophy (& not for the 1st time in the last few years either!)
Big congratulations to Tadhg on a super performance which bodes very well for his big target of the the year the upcoming An Post Rás
Finally thanks to Wexford Wheelers for running a great race