And so we have come to the close of what has been, a truly epic week for Comeragh CC. There are a number of things to write about but where to start? The obvious one is with our team who completed the most grueling cycling event this small island of ours  has to offer, the An Post Rás. The riders, Martin, Tadgh, David, Ciáran,& Noel went through what they'll initially remember as a hell of a week, but as the bodies recover and the form they've gained through the week comes to them over the next few weeks and months, they'll look back on the week I'm sure with fond memories. Sure the suffered lows, from the obvious ones of the crashes on day 1 to the less obvious of holding the pace that the world-class pro riders at the pointy end of things would inflict on the county riders, everyone of whom had truly deserved their place on the start line of this great race.
But the lads exploits during the race only told one side of the story, none of it would have been possible without the help of their fantastic back-up team Morgan, Cian, John & Alan. We must express our huge thanks to them.
Another huge thanks must go to the sponsors who came on board, to help the team achieve their goal of becoming 'Men of The Rás', EirGen Pharma, Q1 Scientific, Mean Bean Coffee, Hutchinson Auctioneers, Full of Beans, Chia Bia, Iveagh Fitness Club and Nearform.
During the week, we followed Cian's updates that he sent us on Whatsapp and that he posted on Facebook, we followed the Twitter updates and we read with great interest the reports that the riders themselves put up on their dedicated Facebook page: Here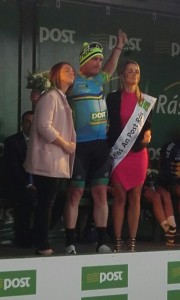 Then of course we had our man Ciáran on the podium on day one for the first county      rider, we understand that after recieving the jersey he rang his wife Lisa to gloat that he  had now worn all the prize jerseys of the Rás, only to be swiftly shot down when he was  reminded that he had never worn the young riders jersey. Oops. Well and truly burned.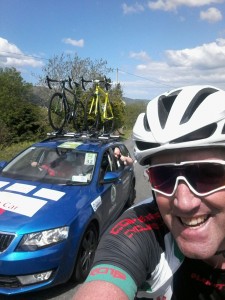 More info on this great accolade can be read here: Click Here