New National 10 mile Tandem Record;
Damien Vereker has this weekend, along with pilot Dermot Radford, set the National Tandem 10 mile record. Setting a time of 18'54", breaking the previous record of 19'04" Well done Damien & Dermot.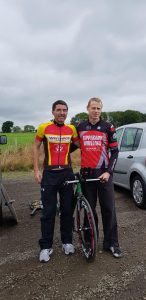 Silver Pail Races in Fermoy;
Fermoy Cycling Club hosted their Silver Pail races also this Weekend with races for underage as well as separate A4 and A3 races along with a combined A1/A2 race.
In the under 16 race Micheál Hayes and Luke Griffin were our representatives on the day, both finishing inside the top 10, Micheál in 5th, Luke in 8th. Chapeau guys.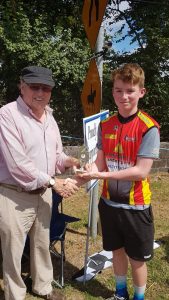 In the A4 race, we had 3 competitors, Niall Hogan, Paul Griffin and Conor Colbert. Best finisher of the day was Niall who was just outside the prizes, which were given to the top 8. Another race under the belt for Niall, that A3 licence wont be much longer!
In the A3/Junior race, 'twas just yours truly and the younger member of the Dillon household, Aaron. Coming to good form following their week at the Junior Tour, himself and Kilarney's Fergal Murphy (Our Junior Tour guest rider last year) were off from the gun. The two stayed away till midway through the second of 8 laps. A few more attacks along the way but nothing stuck, so it came down to a bunch sprint for the line, Aaron taking a comfortable 2nd place.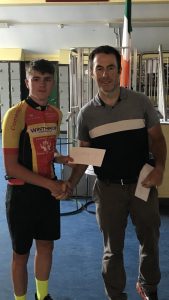 Tomás Walsh, another junior from our Junior Tour squad, was our sole representative in the A1/A2 race which featured some big-hitters! Tomás rode well all day, coming home in the reduced bunch to claim prize for the 1st unplaced A2 rider.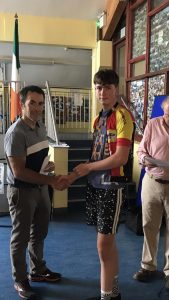 Well done all, super results.
Sunday's Club Spin.
It would seem things were taken a bit less seriously on this Sunday's club spin, the most hotly contested sprint was that for the coffee stop in Hook Head.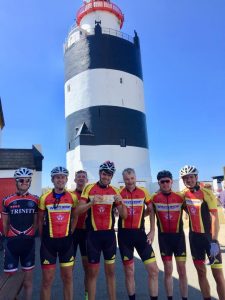 Liam Walsh reckons the rest of us cyclists are sadly lacking in muscle, particularly round the arms so decided on the way home to show the lads what his Bar Brothers workouts were all about.